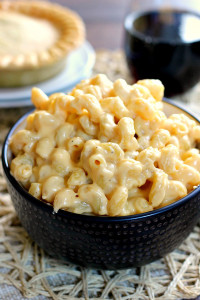 Ingredients:
8 oz (2 cups) Dry Large Elbow Macaroni
2 Tbsp Nonfat Dry Milk
2 Tbsp All-Purpose Flour
1 Tbsp Butter, melted
1 ¼ cups Boiling Water
16 oz Kraft American Cheese, shredded (looks like Velveeta)
1/3 tsp Salt
Directions:
Heat oven to 350 F
Cook Macaroni according to package directions. Drain.
In a large bowl, mix dry milk, flour and butter. Gradually add boiling water, beating constantly. Add 1-½ cups of the cheese and continue beating until smooth and creamy. Stir in macaroni, 1 cup of the remaining cheese and salt.
Bake 25 minutes.
Remove foil. Sprinkle remaining cheese on top and continue baking uncovered for 1 minute or until cheese melts.