CedarWood Family Recipe
Apple Crack Dip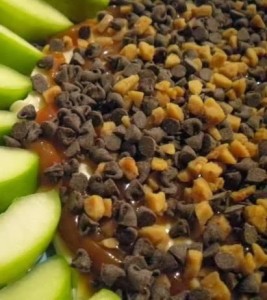 Servings: 24
Ingredients:
• 3 (8 ounce) boxes cream cheese
• 1/2 cup sugar
• 1/2 cup brown sugar
• 1 teaspoon vanilla extract
• 1 (12 ounce) bag mini chocolate chips
• 1 (8 ounce) bag toffee pieces
• 1 (20 ounce) bottle caramel ice cream topping
Instructions:
1. Cream together the cream cheese, sugar, brown sugar, and vanilla extract.
2. In a casserole dish, spread the cream cheese mixture into the bottom of the pan.
3. Completely cover the cream cheese mixture with the chocolate chips and chocolate toffee bits.
4. Drizzle liberally with the caramel sauce.
Chill or serve immediately with apple slices. Enjoy.