Ingredients:
5 – 14.5 oz cans Cut Green Beans
1 – 10.75 oz can Cream of Mushroom Soup
1 – 10.75 oz can Cream of Chicken Soup
1/2 cup Minced Garlic (from a jar)
1 Tbsp CedarWood BBQ Rub
1 cup Bacon Drippings (yep – that's Texas cooking!)
2 lg. cans French Fried Real Onions
2 (12 oz) packages. Grated Cheddar Cheese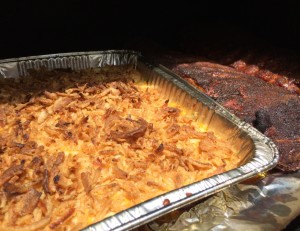 Directions:
Slow boil beans, uncovered, with garlic and bacon drippings for 1+ hours, allowing liquid to cook down substantially. Drain any remaining liquid, then gently fold in soups and sprinkle in CedarWood BBQ Rub.
In greased metal pan, place bean-soup mixture, then cover with cheese. Sprinkle Fried Onions on top.
Cook on pit AWAY from direct heat (around 300° F), uncovered for about 30 minutes until casserole is bubbling. Cover with foil if onion start to brown.