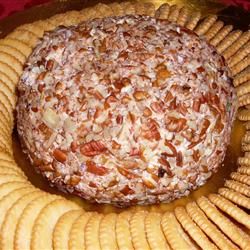 Ingredients:
2 (8 oz) packages of Cream Cheese
1 Tbsp Mayonnaise
1 lg bunch Green Onions, chopped
1 tsp Tabasco
1 tsp Worcestershire Sauce
1 tsp Cayenne Pepper
½ Tbsp Mustard
1 tsp CedarWood BBQ Rub
1 (8 oz) package of Chopped Pecans
Directions:
Preheat oven to 350 degrees.
Combine all ingredients except for pecans and refrigerate until firm.
While the cheese ball is firming, spread the chopped pecans on a cookie sheet and spray with cooking spray.  Bake in the oven @ 350 degrees for 5-8 minutes.  Keep an eye on them so they do not burn
Once cheese has firmed, form it into a ball and roll in the toasted chopped nuts until coated.
Serve with Fritos Scoops or crackers.